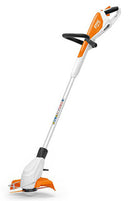 ---
Free delivery on orders over £150 (handheld equipment)
Description
Compact cordless brushcutter for straightforward trimming and clearing work in outdoor areas at home. Integrated battery with charge level indicator, shaft and loop handle offering tool-free adjustment, adjustable mowing unit working angle (useful for vertical edge trimming among other tasks), easy to switch between PolyCut blades and mowing lines without changing the mowing head, spacer bracket. Battery charging time: 145 min/210 min (80%/100%). Approximate working time up to 20 minutes.
Specification
| | |
| --- | --- |
| SKU | 45120115705 |
| SIZE | No |
| MANUFACTURER | Stihl |
Features
Telescopic shaft
With 8 adjustable positions along a length of 170 mm, the FSA can be optimised to match the user's size, ensuring ergonomic working and a less tiring job – and without the need for a separate tool.
Adjustable loop handle
The loop handle can be adjusted in 6 increments up to an angle of 120°
Adjustable mowing head
The mowing head can be tilted in 4 increments up to an angle of 48°
Adjustable mowing head
The mowing head can be tilted in 4 increments up to an angle of 48°
Charge level indicator
The remaining working or charging time can be viewed at any time by pressing the button. Four LEDs light up, or flash green or red, to indicate the charging state or problems.
Storing spare blades
The PolyCut blades can be easily replaced if worn. Up to five spare blades can be conveniently stored on the tool.
Spacer bracket
The FSA 45 has a spacer bracket for precise and efficient trimming around plants and other objects. It can be folded out or down as required.
Activation key
The tool can only be used with the activation key. If the key is removed, the tool switches off to guard against unintentional activation. The tool can be safely stored and transported.
Charger cable
The STIHL HSA 45 draws its power from an integrated 18V lithium-ion battery. The battery is easily charged using the charger cable.
Compact and ergonomic
The integrated battery cells mean that the tool is optimally balanced. The FSA is easy to handle. Its streamlined design creates plenty of room for manoeuvre.
Quiet technology
The STIHL cordless tools are so quiet you don't even need to wear ear protection.
Technical Data
| | |
| --- | --- |
| Sound pressure level dB(A) 1) | 80 |
| Sound power level dB(A) 1) | 94 |
| Weight kg 2) | 2.3 |
| Vibration value, right m/s2 3) | 4.9 |
| Vibration value, left m/s2 3) | 1.7 |
| Total length cm 4) | 110 |
| Standard cutting tool | PolyCut 2-2 |
| Battery life time with PolyCut 2-2 min 5) | up to 20 |
| Battery life time with mowing head min 5) | up to 12 |
| Protection class | III / III |
1) K-Wert nach RL 2006/42/EG = 2,0 dB(A) 
2) Including battery 
3) K-factor according to DIR 2006/42/EC = 2m / s ² 
4) Without cutting attachment 
5) Battery life times are approximate and may vary depending on application 
 Product Files
Payment & Security
Your payment information is processed securely. We do not store credit card details nor have access to your credit card information.