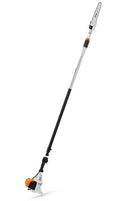 ---
Free delivery on orders over £150 (handheld equipment)
Description
Pole pruner with an ideal power to weight ratio for powerful cutting work in orchards and professional tree maintenance. Lightweight, compact transmission with captive nut on the sprocket cover, maximum cutting performance due to the 1/4" PM3 saw chain, 4-MIX® engine with simplified start system. Highly ergonomic and very stable due to the reduced weight of the square-cut telescopic shaft. Total length: 270 – 390 cm.
Specification
| | |
| --- | --- |
| SKU | 41822000149 |
| SIZE | No |
| MANUFACTURER | Stihl |
Features
STIHL 4-MIX engine
You can always rely on STIHL to keep setting new benchmarks this time with 4-stroke mixed lubrication technology. The STIHL 4-MIX engine, which runs on a fuel-oil mix just like a 2-stroke, offers the benefits without the compromises of 4-stroke power. STIHL 4-MIX engine technology provides fast acceleration, more power, added torque, lower noise, reduced emissions and increased fuel efficiency to complete jobs quickly, quietly and more easily.
Side Chain tensioning
The side chain tension is used to adjust the chain tension safely and easily.
Telescopic pole
With the practical telescope shaft that can be fixed from 2.70m to 3.90m, you can easily reach branches up to a height of 5m.
Tool-free oil tank cap
Tool-free filler cap for opening and closing of the oil tank without tools
Multi-function control handle
This houses all the engine controls. Easy, comfortable thumb-operated control means the operator's hand never leaves the handle.
Anti-vibration system
Intense vibration at the handles of power tools can lead to long-term effects on blood vessels in the hands and arms. STIHL has therefore developed an effective anti-vibration system whereby the oscillations from the machine's engine are dampened which significantly reduces vibrations at the handles.
Decompression system
The decompression system allows some of the compression pressure in the cylinder to escape, so less force on the starter rope is needed.
Manual fuel pump (purger)
A small fuel pump delivers fuel to the carburettor at the touch of a button. This reduces the number of starting pulls required following extended breaks in operations
Basic harness
For use with loop handle machines.
Technical Data
| | |
| --- | --- |
| Capacity cm3 | 36.3 |
| Performance kW | 1.4 |
| Performance hp | 1.9 |
| Weight kg 1) | 7.2 |
| Sound pressure level dB(A) 2) | 93 |
| Sound power level dB(A) 2) | 109 |
| Vibration value, right m/s2 3) | 4.3 |
| Vibration value, left m/s2 3) | 3.6 |
| Total length (max) cm 4) | 390 |
| Standard Saw chain | PICCO 71 PM3 |
| Chain pitch | 1/4"P |
1) Without fuel, without bar and chain 
2) K-factor according to DIR 2006/42/EC = 2.5 dB (A) 
3) K-factor according to DIR 2006/42/EC = 2m / s ² 
4) With cutting attachment 
Product Files 
Payment & Security
Your payment information is processed securely. We do not store credit card details nor have access to your credit card information.