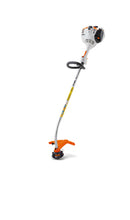 ---
Free delivery on orders over £150 (handheld equipment)
Description
New generation light ergonomic brushcutter with STIHL ErgoStart for easy jerk free starting. Ideal for tackling grassy areas around the garden or at the allotment. Modern appearance, convenient operation and very simple starting procedure are the highlights of the new generation STIHL grass trimmer range. The number of steps needed to start the machine has been drastically reduced. The frustration of a flooded engine is virtually eliminated. New 2-stroke engine with stratified charge allows fast acceleration, low emissions, reduced fuel consumption. With bent shaft, loop handle and AutoCut mowing head ideally for trimming small areas of grass and around obstacles. Ideal for edging as well as for small areas of grass. The loop handle can easily be adjusted for comfortable operation without the use of tools. Also available without STIHL ErgoStart easy-start system (FS 50).
Specification
| | |
| --- | --- |
| SKU | 41440112315 |
| SIZE | No |
| MANUFACTURER | Stihl |
Features
Reduced-emission engine technology
2-stroke engine with stratified charge. A fuel-free layer of air is created between the burned charge in the combustion chamber and the fresh charge in the crankcase, reducing the amount of fuel lost during the charge cycle. This results in more power with a lower weight, up to 20% lower fuel consumption than regular 2-stroke engines and significantly reduced exhaust emissions.
Manual fuel pump (Purger)
A small fuel pump delivers fuel to the carburettor at the touch of a button. This reduces the number of starting strokes required following extended breaks in operations.
STIHL ErgoStart (E)
STIHL ErgoStart cuts the effort required to start the tool by half, while the starter cord can be pulled at just one third of the normal force. A coil spring between the starter cord and the crankshaft smoothes out force peaks, making them virtually undetectable through the cord itself.
Simplified starting system
Simply set the choke, pump the fuel primer, pull the starter cord and away you go! The running machine then switches off after a brief press of the stop button. Once the machine is at a standstill, the ignition activates again automatically. Thus the ignition is always ready for starting.
Multi-function control handle
Easy, comfortable thumb-operated control means the operator's hand never leaves the handle.
Technical Data
| | |
| --- | --- |
| Sound power level with metal tool dB(A) 1) | 109 |
| Sound pressure level with metal tool dB(A) 1) | 97 |
| Power output hp | 1.1 |
| Performance kW | 0.8 |
| Displacement cm3 | 27.2 |
| Weight kg 2) | 4.5 |
| Sound pressure level with plastic tool dB(A) 1) | 93 |
| Sound power level dB(A) 1) | 108 |
| Vibration value, right with plastic tool m/s2 3) | 5.7 |
| Vibration value, left with plastic tool m/s2 3) | 6 |
| Total length cm 4) | 145 |
| Cutting diameter mm | 420 |
| Tank volume l | 0.34 |
| Displacement cm³ | 27.2 |
| Power output kW/bhp | 0.8/1.1 |
| Weight kg 5) | 4.5 |
| Standard cutting tool | AutoCut C 5-2 |
1) K-factor according to DIR 2006/42/EC = 2.5 dB (A) 
2) Without fuel, cutting tool and without protection 
3) K-factor according to DIR 2006/42/EC = 2m / s ² 
4) Without cutting tool 
5) without cutting tool and deflector 
Product Files 
Payment & Security
Your payment information is processed securely. We do not store credit card details nor have access to your credit card information.