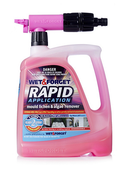 ---
Free delivery on orders over £150 (handheld equipment)
Description
Wet and Forget: Rapid
Wet & Forget Rapid removes Mould, Lichen & Algae fast!
Just click on to your hosepipe and Wet and Forget Rapid will automatically mix with the water allowing you to spray 200m squared in just 10 minutes, by using its fan nozzle. 
Select its Sniper Nozzle and Rapid will spray up to 8m high.
Treatment and prevention with Wet & Forget Mould Rapid, Lichen & Algae Remover  couldn't be quicker and covers the same area as the blue Wet and Forget (5L)
Important: You cannot use regular Wet & Forget (blue) with the Rapid Application Sniper Nozzle.

We talk about this product a lot - because it is just so useful and hugely effective. Here is a quick list of where you can use it to clean :
 - Outdoor surfaces : wood decks, roofs, fences, outdoor painted surfaces, tarmac, concrete, paving, limestone, sandstone, marble, slate
- Solar Panels
- Sports courts - Basketball, Tennis courts, Multi-sports courts, astroturf, artificial bowling greens
- Motor Vehicles, Cars, Trucks, Pickups, Boats - exterior paint, metal, chrome, glass, plastic, composite materials
- Wood and plastic Play Houses and Playsets, Swing Sets, Slides, Monkey Bars, Climbing Equipment, Seesaws, Baby Swings
- Caravan Awnings, Canvas Tents, Shade Sails, Yacht Sails
- Roofs, Conservatories, UPVC Windows and Doors, etc, Garden Furniture, Pool Surrounds, Greenhouses, Garden Pots, and More.
To use it, you simply attached a hosepipe with a quick connector to the black fitting above the handle, gently turn the black twist spray controller next to it - and spray the Wet and Forget Rapid on what ever you would like to clean.
You leave the the wet and forget to dry ( no scrubbing, brushing or washing off ), and gently let nature clean for you. The results speak for them selves and now is the perfect time to use it.
Payment & Security
Your payment information is processed securely. We do not store credit card details nor have access to your credit card information.