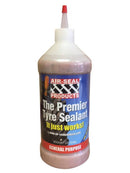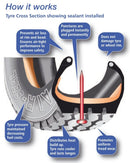 ---
Free delivery on orders over £150 (handheld equipment)
Description
This product is amazing - it actually does what it says on the label. Here at hughie Willett Machinery - We had 3 punctures, in 3 different wheels on our forklift at the same time and tried this product in a moment of desperation. We were all wary, not expecting it to work - but a week later, all of the tyres on the forklift are still fully inflated ( they are running at over 100 psi ). Having tested sealant on ourselves - we can happily say we will be sticking with it. ( Update - 4 months later it is still working perfectly ).
This grade is capable of sealing punctures of up to 15 mm (5/8 inch) in one revolution of the wheel without any noticeable loss of tyre pressure. It is based on the most sophisticated technology developed over twenty years.
Air-Seal Heavy Duty is for treating the tyres of a wide range of vehicles used for off road activities.
1 bottle ( 1 Litre ) = 32 Units
click here to find out how much you need for your tyre size .
for Use with:
Tractors
Trailers
Mowers
Dumpers
Forklifts etc
Trucks
Trailers
Skip Wagons
Coaches etc
Golf Carts
Wheel Chairs
Mobility Scooters

Bicycles

ATV's / Quad Bikes / Utility Vehicles
Off Road Benefits:
Provides protection from hazardous working conditions on landfill sites, building site clearance, civil engineering projects and agricultural activities.
Prevents air leaks around the tyre bead and wheel rim.
Avoids costly downtime for the driver and machine when the machine is idle.
The cost of one treatment is no more than conventional repair methods.
The usage of specialist tyre repair services is greatly reduced.
The installation procedure is simple and usually completed within a short time. A comprehensive Installation Manual is supplied with an application chart which details the amount oftyre sealant necessary for any combination of tyre sizes. A specially engineered all metal pump is provided which dispenses a measured amount of product for each stroke to ensure the correct amount of sealant is installed according to the tyre being treated. The correct amount of sealant for each tyre size must be installed. If more or less is applied this may cause the sealant to underperform or be more costly.
Payment & Security
Your payment information is processed securely. We do not store credit card details nor have access to your credit card information.