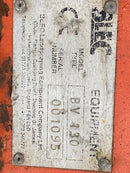 ---
Free delivery on orders over £150 (handheld equipment)
Description
Blec BV130 Stone Burier c/w seeder on rear.
Blecavator BV130 Stone Burier Compact Tractor Stone Burier, c/w seeder on rear. Used 4ft Stone Burier, Good working order complete with packer roller. PTO driven stone burier.
Features
BURIES STONES, DEBRIS AND OVERGROWTH
ADJUSTABLE SCREENING TINES 13-50MM
LEVELS AND RAKES IN ONE PASS
PULVERISES CLODS INTO FINE TILTH
PACKER ROLL LEAVES A FIRM FINISH
OPTIONAL SEED HOPPER AVAILABLE
LONG LIFE PRE-SET CAM CLUTCH
The BLECAVATOR compact series is designed to carry out a one pass ground preparation process, cultivating down between 10-18cm, pulverising the soil clods, burying stones, overgrowth and debris, screening the soil down to 13mm through the adjustable tines, raking the ground level, compacting the soil, and finish rolling.
LIBRARY PICTURE
Payment & Security
Your payment information is processed securely. We do not store credit card details nor have access to your credit card information.