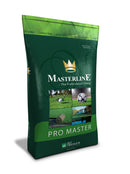 ---
Free delivery on orders over £150 (handheld equipment)
Description
PM70 Recreation Grass Seed
The sport Masterline Pro Master 70 Grass Seed is a new formulation of Ryegrass and Fescue grass seed with the introduction of 4Turf Tetraploid Ryegrass grass seed that delivers rapid establishment for the fasted possible renovation of worn tees and playing fields.
A versatile mixture that will produce a very hard wearing sward with a high shoot density suitable for winter and summer games. The introduction of unique new 4Turf tetraploid ryegrass delivers the fastest possible establishment, especially important for the rapid renovation of worn turf, plus improved disease resistance and improved drought tolerance thanks to the deeper root system. The perfect mixture to bring your venue back to life following that summer tournament or festival. 
Used for: Athletics fields, Golf course fairways, Landscapes, general Landscapes, high quality Lawns, etc
Masterline Pro Master 70 Recreation Grass Seed gains high disease resistance and drought tolerance due to its deeper root system. Best grass seed for: Sports fields, tees and fairways. Mixture: % Cultivar Species 25 Double 4 TURF Tetraploid Ryegrass 20 Bizet Perennial Ryegrass 25 Platinum Perennial Ryegrass 30 Herald Strong Creeping Red Fescue
Sowing Rate:35-50g/m
Oversowing Rate:25-50g/m
Mowing Height:Down to 12mm
For further information regarding our Masterline Pro Master Grass Seed Range, contact our sales team on 0121 308 1262 Did you know? Pro Master 70 Recreation Grass Seeds have a GroMax coating to aid growth and establishment.
Payment & Security
Your payment information is processed securely. We do not store credit card details nor have access to your credit card information.