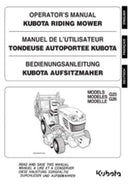 ---
Free delivery on orders over £150 (handheld equipment)
Description
This is a genuine Kubota Operators Manual, printed to order from Kubota UK using their new print on demand supply system. There is a delivery date of upto 2 weeks from the date of ordering.
The price includes delivery to any address inside of the UK. For orders to be delivered outside of the UK, please contact us for the delivery charge – we will be happy to help.
We are agents for Kubota, we are able to supply any Kubota Parts or Kubota Spares, Kubota Paint, Kubota Literature ( Workshop Manuals, Current range literature, etc ) that is available from Kubota UK.
Payment & Security
Your payment information is processed securely. We do not store credit card details nor have access to your credit card information.