Additional Product Information
Since we've launched our new website, we're in the process of adding detailed, specific information to product pages. You may notice that during the transition, certain product details aren't available. During this time, please contact our friendly team who'll be happy to assist with your query.
Contact Us
Phone: 0121 308 1262
Email: sales@hughiewillett.co.uk
Description
Features
Mesh Sides Available on all models; these sides simply bolt on to the trailer. They provide an increased capacity for light loads such as leaves and grass.

Lighting Arrangement – Lights are standard on our S/4 model upwards and optional on our S/2 model. The standard light units fitted are commercial grade and sealed to prevent water damage. In addition, it is also possible to upgrade to LED lights and LED beacons are available as an option for all models.


Pressed Panel Construction – This production technique increases strength and rigidity without adding significant weight, ensuring that the side panels can safely and easily be handled or removed.



Fully-braced Hinge Points – Our whole drop-side range uses the same hinge points, which are reinforced to stand up to the constant opening and closing action drop-side trailers have to endure.



Fully Welded Construction – No compromises are made in the construction of our trailers, with every model utilizing a fully welded construction. This provides two major benefits; the overall durability of the trailer is increased and there is less opportunity for water to sit and cause rust.



Marshall Chassis Design – Our smaller models use a fully-welded channel chassis that provides unmatched strength while keeping weight down. Our S/85 and S/10 models use a square chassis configuration to improve stability and reduce flexing when loading. In addition, our S/10 model also benefits from a further strengthened chassis, which employs an 8mm thick reinforcing plate over the front of the chassis members to provide incredible rigidity.



Axles & Braking – Our Whole drop-side range comes complete with hydraulically operated brakes as standard; the only exception is our S/2 model, which has the option to fit hydraulic brakes. The size of the brakes on our drop-side range are also more than acceptable; providing braking efficiency in excess of the current legal requirements.



Paint Finish – Since November 2011 we have shot-blasted, this is acknowledged in the paint industry as the best possible method for preparing steel for painting. The shot-blasting creates a profile for the paint to adhere to, improving adhesion and in turn, the protection offered to the steel. Our five-man team of trained sprayers then use the latest spraying equipment to finish our products with a dual layer paint finish. Every machine is finished with 80 microns of high-build primer and 50 microns of gloss polyurethane; this combination provides excellent protection and a high-quality finish.



Delivery Marshall Trailers uses a computerized build system to plan production to ensure that machines are delivered on time. The final stage of delivery is undertaken by our two artic lorries, a 7.5ton rigid lorry and a number of other haulage partners.



Spare Parts – Marshall Trailers has a full selection of spare parts for all our ranges, most of which can be dispatched immediately. In some cases, we have spares for machines dating back forty years, which gives of mind when you buy a Marshall that you will be properly supported well into the future.


18" Mesh Sides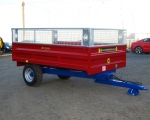 Part No.
065/03-0000
An ideal attachment for a trailer in the leisure industry or used for odd-jobs on the farm.


26.0 x 12 Wheels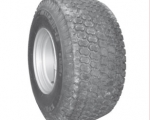 Part No.
083/01-26-12/05
These tyres reduce the ground compaction of the trailer; ideal in the grounds care industry. Please note all prices are in a place of standard tyres.


Hydraulic Brakes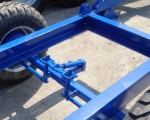 Part No.
050/11-3000
If the machine is going to be used on the road or on the steep ground then hydraulic brakes are recommended. This price includes a ratchet handbrake.


Handbrake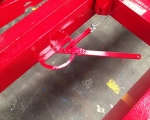 Part No.
059/01-1000
This allows the trailer to be secured when stationary.
Trailer Cover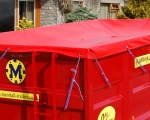 Part No.
057/02-0000
A simple 640g PVC cover to protect grain or other valuable loads.


Rear Ramps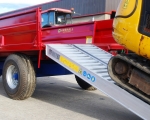 Part No.
065/10-0000
Manually attached ramps, the idea of unloading or loading small machines.
Lights
If the machine is going to be used on the road then lights are recommended.
LED Beacon
Ideal if the machine is frequently used on the road.
LED Lights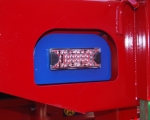 Part No.
064/02-9010
Improved visibility of the machine and reduces maintenance of lights.
Bespoke Colour Finish - Single Colour
Your Marshall product can receive a bespoke paint finish. Please note paint is not guaranteed to be an exact colour match, although every effort will be made to match the colour as closely as possible.


Bespoke Colour Finish - Dual Colour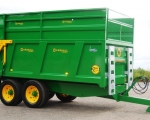 Part No.
068/08-9992
Your Marshall product can receive a bespoke paint finish. Please note paint is not guaranteed to be an exact colour match, although every effort will be made to match the colour as closely as possible.